Robotic Process Automation: The Basic Guide
31
Dec
2020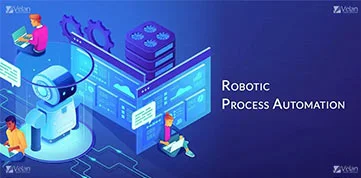 What is Robotic Process Automation? 
Robotic Process Automation (RPA) is the use of computer software tools to manage repetitive, mundane tasks and cut short on resources. 
The robots communicate with information sources and applications similar to humans. By leveraging Robotic Process Automation in your organization, you are achieving efficient results and saving a lot of overhead costs, in addition to releasing your employees so they could focus on their niche skills, which will benefit your business. RPA will help you uncover your valuable business priorities.
RPA can do every task like a human such as transferring one application to another, filling data in multiple fields, copying, updating, and pasting to other records, etc. unless there are a rule and schedule to it. The robot in RPA is software that replaces human efforts and does the job of fetching customer profiles, order details, order information, support, etc. from multiple databases.
As RPA deals with process automation, human negligence is knocked out, and there is zero room for any error. 
The needs of the consumers are evolving, and they expect more personalized, efficient, and quick answers to their queries. In order to keep up with the evolving demands, organizations have to update themselves to maximum digital power like RPA to fulfill the growing and sophisticated customer demands to stay ahead of their peers. 
With the RPA power, you are scaling your business's accuracy, brevity, and immunizing it to boredom and dissatisfaction. It is a great replacement for humans when it comes to doing mundane, rule-based tasks. 
What are the steps to implement RPA in your organization?
RPA delivers immense value, and the organizations are excited about its implementation until they begin. Half-way through, when RPA implementation does not work the way the organizations had imagined it to be, it can backfire, and the ROI will go for a toss.
Let us understand the steps to implement RPA in your organization.
Step #1: Analyzing
As the name indicates, this step has a lot to do with research. You can do online research or get in touch with experts like Velan to comprehend how RPA can fit in your organization and how you can leverage RPA to maximize your profit. 
These are the few questions you must see yourselves answering:
Will RPA complement the business?

What will be the impact of RPA on the business?

How are other organizations taking advantage of RPA?

How adaptable and flexible is RPA for users (both business and technical)?

How valuable RPA will be for the business in terms of savings on resources, increase in output, efficiency, effectiveness, increased customer satisfaction, maximizing profits, ROI, etc.
When you have definite answers to the questions, you can move to step #2. 
Step #2: Identification
Identification is a two-way process. It includes identifying the internal and external processes. 
Internally, you must understand what processes need to be automated and if they are worth it. Automation can be a human-related task like really complex ones or bot dependent tasks that are simple. 
Externally, you must discover the tools available for RPA. There are innumerable tools that claim their advantages, however, you must identify the right tools that will suit your needs, budget, and purpose. Or you can contact Velan to help you with the entire process.  
Step #3: Pilot
In this step, you certainly need the guidance of an expert like Velan to help you choose the right tools and perform a Proof of Concept to train you to use the new RPA system. It is highly important as there is a lot at stake, proving your decision and the big move to the Board, and retaining the trust of your workforce and consumers. 
Based on your tool selection and the business processes that you may have finalized, the whole set-up will take some time. You must have a lot of patience to execute and do a lot of trial and error until you find yourself sure about the successful implementation of the robot. You cannot retire until the bots perform the task they were installed for, and you see the results. 
Carry out a lot of tests with your earlier data, and make sure you validate it with the value that you previously got. Once the results match and are satisfactory, you can go live with the pilot.
Step #4: Develop, Test, and Deploy
Step #4 means that you have crossed 50% in your automation journey successfully. You must have already seen the results that RPA could bring to your business. Go ahead step by step and automate the selected business processes one at a time and move to the next one when you see the previous automation was successful. Only after you have seen the bots perform live and give you the desired output, deploy it in real-time. 
You must make sure of an alternate plan to run the tasks after deployment, just in case there is an unexpected failure with the bot's performance. Have a back-up plan and contingency plan ready always. 
Step #5: Maintain
Robotic Process Automation requires maintenance like every other software deployment. Make sure your team is skilled and can handle RPA automation and installation to ensure smooth and seamless functioning of the software. 
5 important ways you can ensure RPA implementation works for your organization
Automation technologies have secured a lot of traction lately since more companies have understood the benefits of automating their business processes. And we bet Robotic Process Automation is one of the most successful. RPA employs software interfaces with Artificial Intelligence (AI) and Machine Learning (ML) practices to execute complicated actions similar to how a human employee may execute it.
One of the major differences between RPA and other types of automation is RPA's capability to emulate a human, which allows it to be implemented with existing business processes, thereby, lessening the development time and a vast range of business activities. It was initially used by banks and financial institutions. But today, RPA technologies have found themselves out to use in various industries. RPA has now become an important daily need to automate processes like back-office processes like data entry, validating invoices against shipments, payment alerts, etc. 
RPA can offer rapid returns on investment if deployed correctly. One mandatory thing to understand here is RPA works best when your objective goal is to automate processes in their current state. However, if you are looking at redesigning or enhancing your present processes, your plan for deploying RPA should wait until after. Organizations must have a comprehensive knowledge of both their existing processes and the novel processes that require organizing and streamlining before deploying the RPA technology.
1. Identify and recognize your business needs
Manual tasks that are prone to human negligence are sure to affect daily productivity. It can cause serious issues to your business from the customers. By identifying and assessing the most crucial business processes, you can organize and streamline them before preparing those processes to go through the automation work cycle. You must have an RPA strategy and framework customized for your business needs.
2. Take one step at a time
Robotic Process Automation is certainly spanning your entire company. Successful RPA implementation demands well-planned collaboration. Control your urge to deploy RPA quickly. Streamline your processes, begin with 'pilot processes' that relatively pose a low-risk, small, and is manageable in case the process messes up. Once you are sure, roll-out the deployment across the different departments in baby steps.
3. Pass over the bad processes
Once you begin assessing and automating processes, it can be enticing to automate all the processes. But if you identify critical issues such as dead systems and repetition, you need to investigate those processes further and address those issues before you implement automation. 
RPA software clearly runs on logic, and if your business's complex sectors need to be streamlined, then the number of bots you may require will also increase, thereby shooting your investment, and reducing your chances of implementation success.  
4. Choosing the correct platform
RPA adoption has increased at breakneck speed, and there are a lot of companies providing prospective solutions. As a business owner, you must slowly evaluate and scrutinize each platform and its features, its pricing structure, and the total cost of ownership. These are the main factors that must influence your decision making to land on the right platform. 
5. Employing the ideal resources
RPA is a new technology, and there are very few experts in this technology. They are in high-demand always, and often reaching out to them will be a challenge. Most companies opt to work with RPA implementation experts who could guide from start till finish and ensure every important step in the process is met. Investing in RPA experts like Velan can help you build a detailed roadmap, guide you through every step, identify the issues beforehand, rectify them, ensure smooth implementation, and ultimately help you increase the overall process efficiency and ensure RPA gives you the best returns on your investment. After all, that is why you considered adopting RPA on the first hand. 
If you want to further learn about RPA in detail and what it can do to your organization, talk to one of our RPA experts.