Shifting From Web App To Mobile App? Brilliant, Consider 9 Important Tips
27
Mar
2020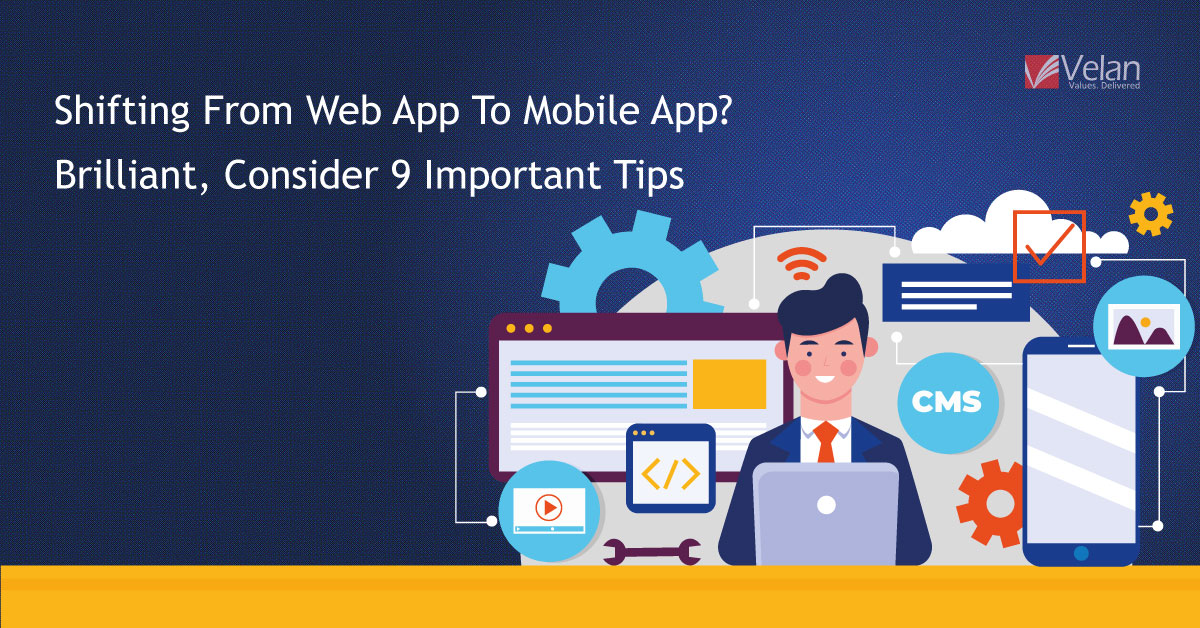 With a whopping 2.7 billion mobile phone users across the world, it is apparent that the mobile app industry will continue to burgeon, today and in the future, according to Statista.
Every business is using different kinds of applications, software to accomplish their tasks. From inventory management to signing off deals, there are numerous applications available in the digital store. These applications are not just easy to use, but more time-saving, comprehensible, minimalistic, and can go with you everywhere, precisely Mobility.
With these reasons to begin, we are sure why companies are thinking about migrating their web applications to mobile applications. Be it for shopping, creating user accounts, trading, submitting information, playing, social networking, finishing office work, etc. – when a person can achieve this on his mobile without having to log in to the desktop or laptop, we reckon this could be more worthwhile.
And so the organizations are convinced to want to have both web and mobile applications.
| The mobile drift is inevitable, and mobile application development is exactly what needs 'focus' right now for the business.
Let's talk about why your business needs a mobile application, more cogent reasons!
Let's first understand why a B2C business needs a mobile app over a web app.
Be visible always. Screen Time on mobile phones is ultimately the highest than on big screens. You could grab your prospect's attention by sending push notifications, encouraging them to open your app. And this way, you will always stay within their reach.
Build Brand Awareness. With billboards, advertisements, flashlights, flyers, etc. surrounding us, mobile apps will help you cut to the chase. You can create a long-lasting effect the minute your prospect downloads your mobile app. You can silently make them your followers by being creative, exclusive, and genuine.
A direct marketing channel can be established. With a mobile app, customers can get direct information about your business – like general information, sales, booking and contact forms, immediate support, user accounts, news feeds, purchase options, etc. – at the snap of their fingers. Precisely, your business, a.k.a. You will be in their mind always.
You can provide real value to your customers. Irrespective of what you are selling, every time you see your customer gazing through your app and making a purchase, you can think of innovative ways to increase their loyalty for your brand.
For example, you can load their wallet with points. These points will bring smiles when they know they can avail it as discounts on their next purchase.
In a way, you are increasing sales while making your customer grin. A happy customer is your brand ambassador.
Stand out in the digital store. Maybe your competitor has still not developed an app. So, why miss the chance?
Let's now understand why a B2B business needs a mobile app over a web app.
Easy and Seamless Connectivity: Mobile apps make it feasible for your B2B customer to open your app, go through your product details, and services even on the move.
Technological Progress: Your B2B customer certainly has a checklist before deciding who to do business with. Technological progress is one of them. With a mobile app, your customer will understand the ease of doing business with you and the room for adaptability. Besides, a mobile application is a recent tool used by organizations to connect with their customers worldwide.
Happy Customers, Higher Engagement: In-app messaging provision, tap to call feature, push notifications, etc. will make your customers engage more with the mobile app than the website.
Tips to consider before migrating
Now that you know how your business can benefit from a mobile app, let us dive into the important things you must consider for migration.
1. Security…and Sandboxing
When discussing mobile apps that carry sensitive business information, security should be the first step.
Native mobile applications will store data on the smartphone, in addition to storing data in the cloud. And this will make your data vulnerable during unforeseen situations like mobile lost or theft.
So having an extra layer of data security for the mobile app involving sandboxing options could prevent data access from intruders.
2. Remember Data Permissions
The mobile application requires access to a lot of personal information, unlike a web app. When you download an app on your mobile, you would instantly see permissions soliciting you to enable location, give access to camera/photos, microphones, contacts, etc.
One of the key things mobile brings to your app is personalization. Your developer must be skilled to assess the metadata and enhance the application's functionality.
Besides, a mobile app should be available to work offline. So engineer the mobile platform to reflect the offline changes once connected to the internet.
3. Provide Seamless UI Experience
User experience is crucial. When the UI is not so appealing, users won't hesitate to uninstall the app regardless of how good the business and service could be. It would have been true with yourself, too. So you must make the complete user experience worthwhile.
Mobile phones are more of a personal device. Realizing that the mobile app cannot perform everything like the web app is the key to this transition. You need to decide which key components will stay on the mobile app and discard the not-so-important features.
A slick, visually pleasing, and responsive design with important features will likely be more successful than stacking every feature from the web app. And you must consider formatting and increasing the font size of the text on the mobile app.
4. Consider deployment angles
A mobile app for B2B and B2C audience is entirely different.
On the B2C perspective, you can make your mobile app available on Google Play Store or Apple Store for download. Users can download and start using it.
On the B2B perspective, you must decide how you will give access to your employees and your customers. If it is an organization's device, you can leverage your IT team to install the app for your employees beforehand and distribute it to them. If it is a BYOD, you must consider remote installations that might not require user intervention. Enterprise mobility solutions can be deployed.
And for clients, enable a direct download link that will securely connect within your organization's cloud infrastructure. Ensure a smooth download experience because your clients might be judging you silently on the technological edge.
5. Integrate social handles strategically
Almost every business has a social face today. And visibility is drastically increasing. You must make sure that your business's social handles like Facebook, Twitter, LinkedIn, Instagram, YouTube, Pinterest, etc. work seamlessly on your mobile apps too – from faster page loading to seamless user experience.
There is no hard and fast rule that social icons must be placed only at the footer. You can leverage your mobile app to strategically position your social icons so you capture the attention of your users.
And if you are an active business page on social media, you are indirectly bringing leads and followers to your account.
6. Build secure payment modules
As far as the large screen is concerned, your customers will know when you are redirecting to the payment gateway pages. In mobile apps, you must consider the screen size and make the whole process of payments comprehensible.
Add an extra layer of security in your mobile app as mobile phones are prone to an unexpected detriment. Most of the payment gateways support both web apps and mobile apps these days. However, in an unforeseen situation, you might want to introduce a third-party app to link the existing payment gateway, and here is where an extra layer of security will do good to you.
7. Introduce product tracking feature
For a B2C mobile app, the customer tracking feature is the most important that many may overlook. Instead of providing a feature in the app to track products, many businesses send SMS which the customers find difficult.
You are taking chances with your prospects if the tracking feature is not inbuilt in the app. Make sure to position this feature in the most important place. You should not let your customer search this feature forever.
8. Test ruthlessly
A mobile application's performance on 3G and Wi-Fi varies with speeds. You must test ruthlessly that your app runs with the same compatibility over 3G or 4G connections, similar to the Wi-Fi. Although it may sound trivial, it could save you from bad ratings because of poor 3G performance.
9. Do not overlook App Testing.
For an iOS solution, your testing options are finite, given the standard models and software versions.
The Android OS is a bit of a pain there. Ranging from various screen sizes to different OS versions, the fragmentation is plenty. You must optimize your app for all the display formats and the OS, at least for the ones that are still prevalent. You must consider paid testing solutions for Android if you do not have the testing provisions in your team.
Key Takeaway:
Transforming your web app into a mobile app should be a strategic move. Thorough analysis, in-depth planning, and agile development are crucial elements for successful transitioning from web to mobile.
Adopting Agile Methodology will save you the pain to implement new ideas that may spring at the time of development and make decisions in this complex process.
Regardless of your business size, choosing a professional mobile app development company like Velan Info will make your entire transformation journey efficient and effortless. It is easy for an app to fail, and Velan ensures you the best of services to make and feel the app user-friendly and beneficial for your end-users.