This Is What Happens When You Outsource Your E-Commerce Business
25
Mar
2021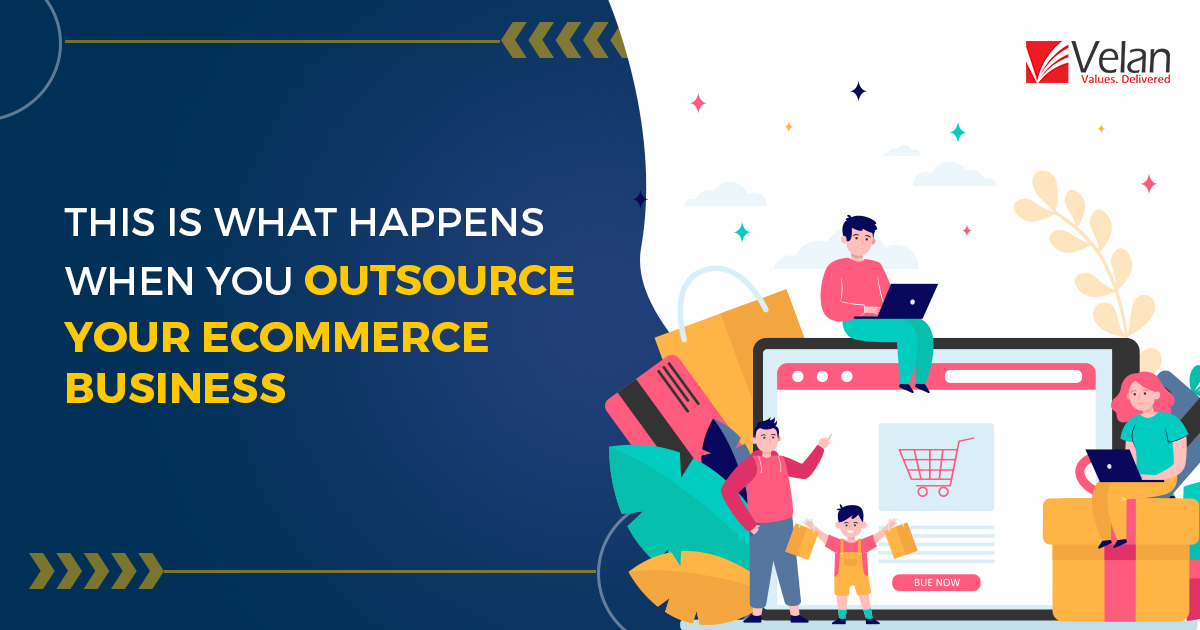 eCommerce stores have transformed the way people browse, recommend, suggest, or shop products. Online stores and online shopping have made it straightforward and simple for people to research, discover new items, and purchase products from the comfort of their seats. The eCommerce field is leveraging technologies like artificial intelligence, machine learning, IoT, and augmented reality to enhance the shopping experiences further.
For example, Amazon introduced the Dash button. It is leveraged using IoT technology. All the customers have to do is just one click, and they can confirm their order using Dash buttons with Amazon.
Statista reported that there are over 2 billion digital buyers in the world. [1]
There is a constant need to innovate, and so you must have your ducks in a row to be at the forefront. This continual need leaves an eCommerce platform with zero time to focus on the relative tasks. And because the online stores are tossing between numerous processes and protocols with finite resources at their disposal, a lot of problems like brand intrusion, duplicate content, marketing, customer support, product returns, etc. have increased.
There are many windows in the eCommerce platforms that need specific skills to manage and a supervisor to ensure the business process is operating as per the plan. And to meet this demand, you cannot increase your in-house capacity often. Clearly, it won't be feasible in terms of profits.
By the year 2040, Nasdaq estimated that 95% of all purchases will be through eCommerce. [2]
Besides, the consumer's expectations and demands are huge, and meeting all those needs can exhaust all your energy, resources, and time.
And here is where eCommerce outsourcing can prove beneficial. It gives a new face to your online store and helps to keep your business ahead of your competition in terms of technology deployment, resource allocation, customer support, back-office support, and everything that is needed to meet your business objectives. The outsourcing services that are offered by world-class eCommerce outsourcing experts can deliver a competitive edge to your online store business.
Precisely, by outsourcing crucial tasks that need industry expertise, you can directly address your eCommerce business's pain points. Outsourcing will help your eCommerce business leverage.
the skills from multiple industries to create a positive impression on customers' shopping expeditions.
With eCommerce outsourcing, you can
+ Cut down on your costs!
87% of outsourcing decisions are influenced by costs, especially in the IT and business sectors. When you outsource IT services, it has proven to be cost-efficient and gives access to a vast marketplace of highly skilled IT programmers, developers, and other staff. It will create a positive impact on your eCommerce business by giving the rostrum to scale services as your business, hire workforce only when required, have technological flexibility, be ahead in terms of customer satisfaction, etc.
You can outsource your not-so-skilled services to an expert at a lesser cost and focus on your core tasks – to improve your business and ways to increase your revenue.
+ Access modernized applications and technology!
Technology is the primary factor that separates the small and huge online stores. With eCommerce outsourcing, you can fill the gaps – regardless of when you established your eCommerce business.
In order to target the right consumer, your eCommerce website should strike the right chord. And that is possible with outsourcing. From website designing to implementing the latest technology that will help your customers have a smooth shopping experience, outsourcing will help you strike that chord. Customers are evolving, and so are their needs. It is mandatory to keep up with their expectations, and when that demands giving them access to the latest things, you must right away implement it. As the outsourcing companies are the experts, they will constantly alter their value proposition with the market needs, thus making things accessible for the business.
+ Build the Perfect Website, Mobile Application, and Whatnot!
A well-organized outsourcing company can build an uber website for your eCommerce firm.
Adobe found that 38% of people will leave a website if they find the layout unattractive. [3]
You could have deduced the significance of having a good website design now. And who better to address this one-time pain-point better than outsourcing experts. From creating the best design to optimizing the website for speed and responsiveness, building the mobile application, optimizing for different screens, fulfilling the appropriate content needs, catalogue management, product management, inventory management, etc. you can outsource for refined results.
+ Create engaging marketing strategies!
Content marketing rakes in conversion rates six times higher than other methods. [4]
Predictive analysis it is!
The savviest of organizations are always willing to try and adopt new strategies that will help them be in the front row. Whether it is breaking conventions or altering the present marketing trends, marketing outsourcing companies can help you with unprecedented strategies to increase your sales.
Identifying your audience, analyzing their online shopping behaviour, showing up at the right places with attractive copy, understanding and meeting the demands, creating demand, upselling, influencing purchase, etc. will be done by the outsourcing firm. You need to be involved with them to give your ideas and find ways to match the demands and supply.
As a result, vendors can equip themselves with the demand and lessen your chance of losing your potential customers.
+ Be highly secured!
Data security is one of the primary problems in the eCommerce industry. Handling personal information and transactions is a mammoth task, and it requires supreme responsibility. And handling global customers is another task by itself as it deals with currency conversions to add to the above. Wide payment options mean huge security threats.
You can relax when you outsource this task to your outsourcing partners. As they are the experts, they will understand what checkpoints need to be covered in order to impart trust in the customers and entrust their personal details to your business.
+ Venture into the new safe reality – The Cloud!
Cloud computing gives you a safe, reliable, and scalable infrastructure. Being on the cloud gives you ample time to focus on improving your business rather than worrying about physical servers, digital infrastructure, having an IT staff for server management, etc.
Cloud will help you scale and give your business the tenacity to withstand huge incoming traffic during peak seasons. Outsourcing your business's cloud competencies will be an efficient option.
Final Thoughts
eCommerce Outsourcing advantages certainly overrides a few obvious disadvantages. You can avoid those 'few' disadvantages by taking enough time to understand how your potential outsourcing partner operates their business. The time you invest in finding a reliable outsource partner will decide the cost and energy you will save later on.
We, at Velan, have been handling IT and eCommerce outsourcing for decades. Our team will give you access to a huge talent pool in various business verticals to handle your business operations. From cloud migration to Magento support, website design to digital marketing, providing customer support, and handling payments — we tap into every business sector so you can focus on your core functions.