Why Is Business Process Improvement Mandatory After BPA To Pivot Your Organization's Growth (Even For Small Businesses!)?
17
Nov
2020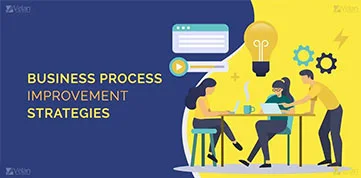 Business Process Improvement Mandatory::
If you are considering reading about business process improvement, it means either you are considering (which is the most needed!) automation and improvement or started automating your business processes or you have already automated a few, if not all of them. We are sure you are enjoying the remarkable value associated with it.
You have embarked on a journey, and this journey of improving your business processes must be a long term if you want to stay competitive. Although your business process automation would have saved you enough money and time and helped you be productive, that is not enough. In order to maintain the results obtained from your business process automation, you must be aware of the processes involved in it and always check out for improvements.
Regularly refining your business processes will make your organization stay fit as a fiddle, make your employees' lives easier, take your customer experiences to the next level, and keep your investors and partners happy.
Small business owners should certainly invest in continual business process improvement as they play several roles in their organizations. They are always busy and very mindful of income and expenses. And the cost may influence them to defer welcoming new technologies associated with business process improvement. But the truth is investing a few extra dollars upfront will save them a huge fortune in the future and help them serve more customers better. Let the truth be accepted – it will exhaust a lot of time and energy, in the beginning, to forgo old methods with new technologies and prove worthy after the first step.
Business Process Management (BPM) was initially regarded as an extravagance and deemed for large corporations. In the event of time, the importance shifted from extravagance to critical part for running business operations efficiently – despite the organization's size. As a matter of fact, BPM is more crucial for small to medium size businesses if they want to stay in the forefront and competent.
What is Business Process Improvement?
Business Process Improvement is a set of functions used to review a company's business processes. It is mainly done to discern business areas where there is room for improving accuracy, efficiency, and effectiveness and then revisit those business processes to experience the improvements.
BPI is attributed to the following reasons:
Remove friction and conflicts in daily business processes
Lessen the overall time required to complete a task
Ensure overall compliance with regulations
How does the whole process work?
Business Process Improvement is a streamlined process. It starts with
Step #1: Identifying the current business processes in your organization;
Step #2: Analyzing all the processes and finding out where there is room for possible betterment;
Step #3: Running several simulations to test the changes and its respective effects on the processes and the business;
Step #4: Focussing on redesigning, reimplementing, and reorganizing business processes with the new changes;
Step #5: Assessing and reassessing the workforce behind those processes;
Business Process Improvement strategies for small businesses
There are a few strategies that you can run in your favour with business process improvement. And they are:
●       An eye for long-term improvement
Implementing any new business practice – whether big or small – should be done after you have understood how it will benefit you in the long run. Every investment you make now should prove fruitful for the long-term. And the same applies to business process improvement techniques.
BPM is not an overnight solution. It involves extended, relentless planning and demands you to periodically check the team's performance after you have adopted a new business process automation. And this automation demands you to check continually for improvement – short-term and long-term.
This practice will help you achieve your business's end goals and instil a culture to look for improvement in every process within your workforce. You must involve every employee and get their feedback to understand if your investment will prove fruitful and rewarding.
●       Understand the existing business processes.
You would be able to understand what needs betterment only if you are adept with the current business processes. Becoming an expert in BPI requires you to be strong at your basics. In this case, you must have known your initial processes. Besides knowing these processes, you must also maintain proper documentation – more like standard operating procedures, FAQ documents, guidelines, etc.
Improving any business process demands complete attention and exhaustive research and understanding of the current process. If you, as a small business owner, are sure about the processes involved, the whole improvement transition will be simple.
Ideally, you must also get your staff to be equally adept in understanding your business processes so you can be efficient and productive, collectively as an organization.
●       Find business needs and problems.
Identifying your business needs and the problems associated with it should be the first step you take towards the BPI journey.
The problems you discern will give you an overview of what solutions can be implemented to better it. You must involve your entire team to find solutions so you can reap the benefits of Business Process Automation and Business Process Improvement.
●       Fix milestones and metrics to be achieved.
After you have implemented any new process in your business, the best way to figure out if it works is by measuring its success – big or small. You need to track every step so you can understand what worked and what needs improvement. Productivity, results, value, total time taken to complete the work, cost, value, etc. are a few of the metrics you need to determine.
And measuring metrics is not a one time job, it needs continual involvement. This way, you can set your metrics and milestones to be achieved timely.
When you see a steady or an increasing graph in your metric targets, you should regulate these standards and roll it out to everyone in the team to achieve your business goals collectively.
●       Pay attention to your customers.
After a successful implementation journey, it is time to see what your customers feel with your enhanced results. Get your customers' input, understand if there is any difficulty for them – because ultimately you are embarking on this journey only for your customers – and get their preferences.
The input will lead you to bring in great value-addition to improve the existing standards and to gain an upper hand competitive edge in the business market.
The Conclusion
Business Process Management (BPM), Business Process Automation (BPA), and Business Process Improvement (BPI) are closely associated together. They go hand in hand with each other.
Any company that wants to improve their business processes, increase efficiency, cut down on meaningless spend, improve productivity, give better customer experience, and give a streamlined outlook to their business should consider investing in all the three categories. Although it gets difficult in the beginning to adapt to the new technology, investing in improving your business processes will prove beneficial for your organization and customers making you a true business leader.
Velan is a pioneer in offering continuous business process management, automation, and improvement services. We empower the businesses globally to embrace digital solutions with a unique blend of resources, skills, and proficiency. From website designing to operations, our business process management services will help your organization to unlock its fullest potential. We offer data-driven business intelligence (BI) service to supercharge and power businesses based on their organizational data.
| Continuous process improvement is mandatory for all kinds of companies, big and small, and industry. It is not just merely an option. Organizations, like people, need to stay in good shape.
How is your organization dealing with process improvement? Are your employees being involved?