15 Reasons Why Realtors Should Hire Virtual Assistants
22
Feb
2022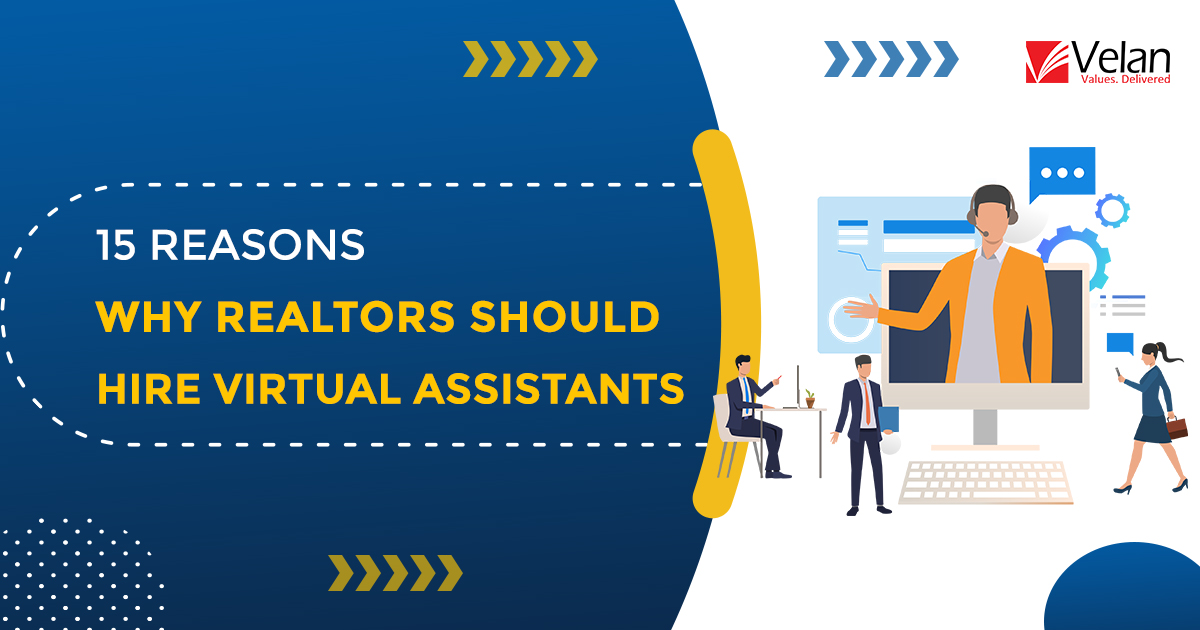 As a real estate agent, it is easy to lose track of time and feel frustrated about not having more than 24 hours in a day. It is especially true if you have started gaining traction and attracting more customers to do more business. Although this may seem fancy and inspiring at that moment, you will eventually hit a rock bottom for not being able to handle everything at once and alone. You need to stop doing that already and hire an assistant to get your backend work done. With an assistant, you might lose a share of your profit, but looking at the bigger picture will help you understand how much more you could do if you had handed over your administration work to someone else. You never know if you could take that trip you have been meaning to take for a long time or close another deal. Delegating your mundane tasks to another expert will give you more benefits and help you generate more ideas to scale your real estate business. Here is where real estate Virtual Assistants (VA) can prove extremely beneficial for you.
A real estate virtual assistant is a remote expert who will be able to help you run your real estate business by offering professional services. You can delegate your routine work to VA and focus on expanding your business and goals. With the world shifting towards remote work culture, it is now easier than ever to hire a virtual assistant and build a trustworthy, profitable relationship with remote workers while staying connected via technology.
What would a real estate virtual assistant do for you and your business?
A virtual assistant for real estate can help you and your business in different ways. From shifting your business responsibilities to them to assisting you to face more clients and helping you achieve new milestones, a VA can push you to do more. These days, a lot of industries from different verticals have discovered the worth of virtual assistants to expand their business efficiency. Outsourcing has become a powerful tool for nailing more leads and maintaining high levels of customer satisfaction, especially in the real estate business vertical.
Additionally, more often than not, virtual assistants live across the globe. It could be a life-changing benefit for you, where you can use your VAs to handle the tasks when you are sleeping. You could make your business operate 24/7. Ideally, you can have your VA at your beck and call.
Here's why you need a Virtual Assistant
A real estate business needs to have someone reliable to manage all clerical work, organize schedules, prepare documents, and handle clients. Saving you time and money is definitely the greatest benefit that you can get from having a virtual assistant. We have listed specific and equally important tasks that you can outsource to your virtual assistant and get the real work done.
1. Research
There is no alternative to research if you want to get your ducks in a row, especially as a realtor. You must be up-to-date about the available properties, lending rates, population, market value, latest economic trends, other real estate fundamentals, etc. It is difficult and time-consuming.
In the time you spend on research, you may have a client meeting, a deal to close, or any other important work.
With a virtual assistant, you can outsource these tasks and get your hands on the most important work. A virtual assistant can help organize the data for you into a meaningful report that will actually help you with the important points you may need to close a deal.
A few research points could be:
Finding the available property in a locality
Discovering the property owners and their deed type
Validating property establishments
Looking for properties with good pricing and its potential
2. Data Entry
As a busy realtor, you don't want to spend time doing basic data like updating, entering your client's name, and contact details, and updating them whenever there is a change. It is important, easy but requires a lot of time. With a virtual assistant at your disposal, you can outsource the routine tasks to them and keep them organized professionally.
3. Simple Bookkeeping
Bookkeeping is essential to keep a track of your expenses and income. With bookkeeping, you should be able to identify your company's financial performance and decide the gains and spends. It will help you understand where you are spending more and if it is hampering your business's growth.
Having a VA do simple bookkeeping for you will give you instant access to all the finance-related information and decide what needs to be changed in that process, if any.
4. Cold Calling
How many times have you hated this? Cold calling requires speaking skills and patience. It is one of the underrated marketing strategies that have been ignored over the years. Having a professional VA can help you resurrect this wonderful strategy and use it to your fullest advantage. You will be able to gain more clients, close deals, and grow your business. All you have to do is to give your visiting cards to your VA to store the numbers and dial them.
5. Spreadsheet and presentations
Spreadsheets and presentations go hand in hand. As a realtor, organizing your contacts and their related documents must be in unison always. From listing the best deals to do a comparative analysis later, managing a spreadsheet is a must.
But the challenge with these lies in time management. As crucial as they are, as time-consuming it is. Spreadsheet creation and PowerPoint presentation are definitely skills that most of the virtual assistants possess. You can leverage it to your advantage while meeting a client and closing the deal.

6. Contract creation and management
Regardless of physical or digital contracts, having one is essential. With a contract, you would be able to ensure that your clients have turned in all the documents required for a clear and legit transaction. Your VAs back office can help you get this job done and maintain a copy of it for future reference.
7. Scheduling Appointments
Scheduling your appointments is really easy, but when things get more, and you have a lot of things to complete on your plate, managing and organizing your appointments can become really messy. Besides, client appointments are dynamic, and having someone to organize your schedule will keep your mental health sane.
It is a simple task, and you can be certain to delegate it to your virtual assistant. Having a VA to help you means you don't need to set meeting reminders or constantly think about your next appointments. Your virtual assistant will do it for you well. And as a bonus, you can be well informed of your schedule and be early for your meetings, which is essential for every professional.
8. Managing your business calendars
As a realtor, your work does not stop with meeting clients. You have more on your plate like validating and signing off the contracts with your clients, building client relationships, attending business meetings and events, taking care of your health, making time for your family and friends, etc. Being a real estate agent per se means running on a tight schedule, and managing your calendar is the last thing you want to do.
Therefore, having a virtual assistant organize your calendar will help you be on par with your client's work and also your personal life.
9. Writing emails
Drafting an email that needs important points to be discussed and communicated clearly is cumbersome. It is vital, but it requires a lot of time. Besides, if you need to go through previous emails and catch up on the earlier points, it could become very laborious.
Here is where a virtual assistant can free you up from this cumbersome task. You can delegate writing emails and letters to your VA after giving them clear instructions on what the email or the letter needs to address. So, your work would be proofread and approved. In addition, there will be certain emails that only need an attachment that you can easily get your VA to do.
Good thing is, most of the VAs have good speaking and writing skills that you can use to your advantage. Just ensure the emails they draft speak everything that you want them to, and you are all set to send it to your clients.
10. Content Creation
Content is king. Having a content strategy is the prime requisite for your marketing activities. It is one of the major sources to yield you a high return on investment. For the content strategy to work as per your desire, you need to be consistent in creating valuable content regularly.
As a realtor who holds a lot of experience serving hyperlocal areas, you will be more eligible than your peers to talk about specific highlights of that area. Your potential clients should be able to take the bait when you translate your ideas into words. But the challenge lies in creating that enticing copy. And if you are not good at writing, it can eat a lot of your house.
You could occupy yourselves closing deals than spend hours on a blank page waiting to produce that beautiful copy. Instead, your qualified virtual assistants can create enticing copy, website content, blog posts, infographics, and other required content worthy enough to get your next client. You can simply give them the ideas and wait to read the final draft.
The work will not stop with just creating and publishing content. If your audience is responding well to your content, you can leverage your virtual assistant's expertise to respond to their reactions and comments. Essentially, you have created a platform to keep your content valuable and engaging, which will fetch you more leads and resultantly, more business.
11. Social Media Management
The world is so reliant on social media these days. It is an essential strategy that you must have as part of your content creation. With social media, you can amplify your digital presence, be known to many potential clients, engage with them, and convert them into rooted clients.
It is not a one-time task but requires you to be consistent and strategize on how to use different methods to reach your prospects. You can have your virtual assistant do this for you. Make sure to hire a virtual assistant that understands the importance of creating a content strategy and is good with content marketing.
12. Online Marketing
Social media management does not end with creating and publishing content. It needs to be marketed, meaning it needs to appear at the right places at the right time to your digital audience. And this is what we call 'Marketing'.
Marketing includes publishing blogs religiously, email newsletters, creating online ads, promoting various content across different platforms, understanding the analytics, strategizing better the next time based on the previous performance reports, etc. Running an online marketing campaign is laborious and is a skill per se.
Your real estate virtual assistant should be able to help you with:
Content marketing
Email marketing
Analytics and performance reports
Promotions
Public relations
13. Website Management
Building a pretty website is one and managing it is another task. Your website needs to be safe, protected from hackers, debugged often, and handled with utmost maintenance. Having a virtual assistant should help you do these for your website.
If you do not have your official website yet, it is about time that you build one. It will broaden your digital presence, get more customers, and increase your sales. You must take the most important step in choosing the right virtual assistant who could do this task for you with utmost perfection and clarity.
14. Customer Relationship Management
Customers are the deciders of your business. Their happy quotient can make or break your business. Therefore, you must maintain good relationships with your customers. Even simple birthday wishes and sending them reminders and congratulations can increase your referrals and bring in a lot of business.
Although it is challenging to personally do these things, you can hire a real estate virtual assistant and invest in a CRM tool that will automate these tasks. You can get your VA to key in all the important information about your client, and the rest of the work will be taken care of by the CRM tool. Your VA should ensure things are in place and it is working as designed.
15. Translation services
Most countries are inviting umpteen immigrants and this is the best chance for your real estate business. You do not want to embarrass yourself when you encounter a prospect who does not speak your language. Having a virtual assistant translate the language and serve as a middleman can bring you a lot of business and keep your immigrants happy.
Takeaway:
Your real estate professional is about consistency and growth. And there is only so much you could do by yourselves. To be successful and thriving, hiring a virtual assistant could help you continue being that.
We, at Velan, provide professional, comprehensive virtual assistance to realtors globally. From managing your calendars to confirming a meeting with your clients, and creating a customized content strategy to marketing them to yield results, we have it all covered.