Who Do You Need For Your Business? – A Bookkeeper Or An Accountant?
24
Jan
2022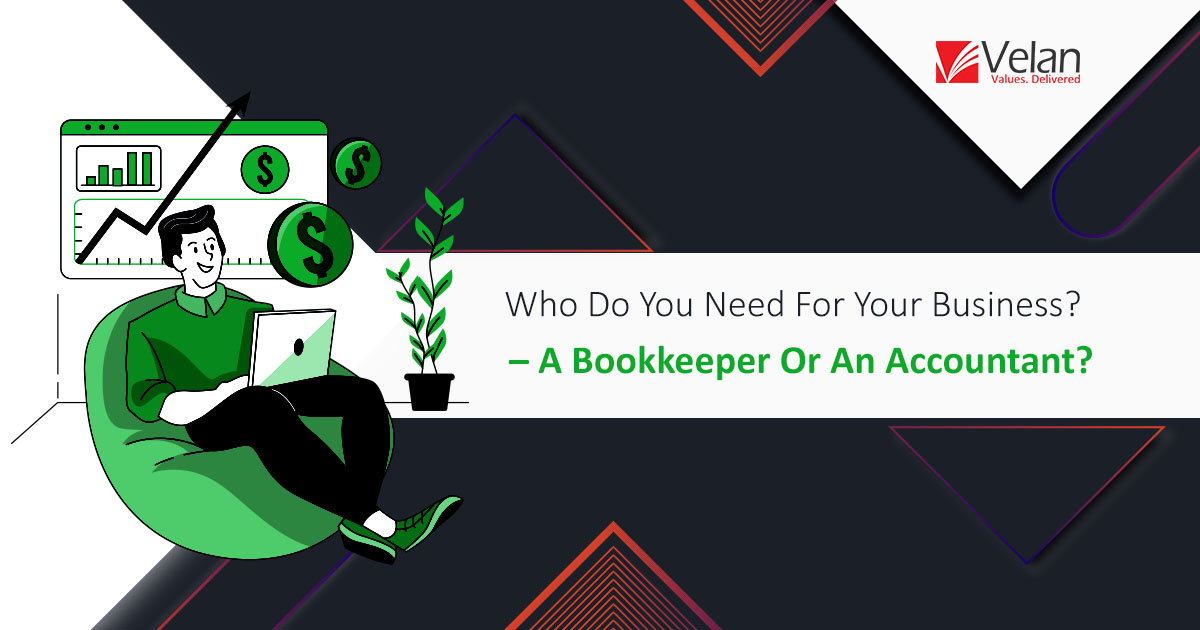 Accounting and Bookkeeping Services: while both the terms deal with handling the business's financial management, maintaining a seamless tax season billing, optimizing the financial aspect of the business, they are disparate technically. Bookkeepers and accountants share the same goals, but their roles overlap. Simply put, they help to maintain the financial transactions of your business at different stages.
Being cognizant of the roles of a bookkeeper and an accountant will help you decide whose service is most required for your business in which season. And this leads to making a smart hire and saving an unnecessary dime.
What is the difference between accounting and bookkeeping services?
Bookkeeping is recording and documenting the everyday financial transactions of a business. The data will be up-to-date and stored in the database for future reference. It is financial journaling and administration. Bookkeepers need not have a license to maintain books.
Accounting is the process of documenting, summarizing, analyzing, reporting, and consulting the finances of a company. It is subjective, and the business insights are derived from the data of bookkeeping. Accounting requires a certified accountant.
In this blog, we will discuss the disparities between bookkeeping and accounting in detail and understand what companies should know in both the disciplines.
Bookkeeper vs Accountant
What is the difference between a bookkeeper and an accountant? Read on.
A bookkeeper manages and records everyday financial transactions of a company. A bookkeeper attentively documents daily financial transactions, collects and sends invoices, manages payroll, and ensures the bills are paid to the vendors on time.
An accountant takes charge of the company's financial big picture. An accountant evaluates, analyzes, and construes data, organizes financial statements, collects reports, and looks after taxation.
Bookkeepers are associated with your company more because of the nature of their job. As they are aware of everyday transactions that happen in your company, you can rely on them to get immediate financial advice and consult with them to make a financial decision.
If you are a startup or a medium-sized company and if your finances are small, bookkeepers can be your valuable asset. From advising you to open a bank account to help you file the ground-level taxes, you can approach a bookkeeper without any hesitation.
Depending on the size and financial turnover of the company, accountants can execute both bookkeeping and accounting. In order to avoid the costs for two services, many small- and medium-sized companies employ an accountant to perform the duties of both.
Responsibilities of a Bookkeeper
A bookkeeper, unlike an accountant, does not need a certificate or formal training to do bookkeeping. A bookkeeper reports to the accountant.
However, a bookkeeper's duty is equally important to an accountant as the whole decision-making of an accountant depends on the data provided by the bookkeeper.
The responsibilities include:
Looking after the daily company's financial transactions
Documenting income and expenses in the accounting software
Paying bills and inquiring about invoices
Being in charge of accounting software
Proposing bookkeeping procedures and policies to the company's executives
Guarding company's financial chronicles, historical records, general ledgers, and yearly budgets
Processing and controlling payroll
Organizing and taking care of bank reconciliations every month
Supervising accounts receivable
Generating cash flow reports
By and large, a bookkeeper can support you in creating better financial plans, assist in budgeting decisions, make taxation less troublesome as they will be with you throughout the year, and they will know every financial season of your business in and out.
Duties of an Accountant
An accountant's chief role is to help you understand your business's finances clearly. It comprises of examining, summarizing, understanding, explaining, and generating financial reports and models.
Essentially, an accountant is in charge of
Creating and maintaining the accounts' charts
Accumulating and postponing the company's expenses and revenue
Planning and maintaining financial records and statements
Making financial predictions
Preparing a financial budget and adjusting entries in actual expenses
Producing customized financial reports and statements to tackle accurate issues
Deciding approximate taxes and developing taxation documents
Observing accounting problems and ensuring tax compliance
Determining prospective profit-maximizing opportunities and other tax write-offs
Essentially, your accountant will influence your financial decisions to make sure your financial records are clean, maintained, and completed at the right time. The accountant also ensures that the financial statement is clear legally and does not have any legal glitches. An accountant offers financial recommendations that will align with your business's strategy and goals.
Bottom Line: Appointing a Bookkeeper will be competitive and economical
Very often, small- and medium-sized businesses don't take their bookkeeping very seriously. They pile up the tasks or will leave it half done just so to break their heads during tax seasons, obliging the accountant to spend unnecessary time dealing with the financial transactions from the past and end up paying more.
Specifically, if your accountant works for you on a contractual basis, your pockets are going to drain, which otherwise could be avoided if the bookkeeping was done accurately and religiously.
Depending on the size of your business (from small to medium-sized) – to mitigate the costs while maximizing the productivity of your finance team, employ a bookkeeper that can also understand basic accounting and help you with decision making. Ensure they are following a standardized approach and abiding by the best practices. Regularly connect with them to understand their daily responsibilities are completed and recorded.
If your business is expanding or making a million-dollar turnover, then it is only wise to employ an accountant besides a bookkeeper. You do not want to take chances here.
Outsourcing bookkeeping services are often the wisest decision. It wards off an unnecessary burden off your shoulders and gives you time to focus on the actual business unless you are ready to spend a fortune in employing a bookkeeper or an accountant in-house.
The whole decision comes down to finding the right outsourcing firm to take care of your bookkeeping and accounting.
Velan Info is a renowned Accounting and Bookkeeping Services firm. To avoid financial chaos and secure the financial secrets of your company, we have both the services, and we create bespoke solutions according to your business needs.